Waynedale Animal Clinic is proud to offer class IV medical laser therapy for our patients. This is a relatively new treatment option that we are finding to be exceptionally effective for treating a wide variety of medical conditions. In fact, Waynedale Animal Clinic was one of the first veterinary hospitals in Northeast Indiana to implement class IV medical laser therapy.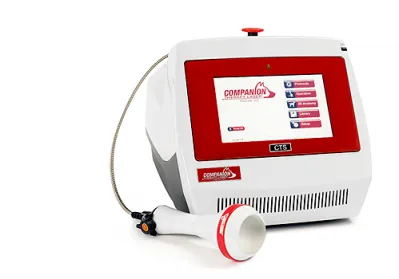 Below is a list of some of the diseases and conditions that we have had great success treating with class IV medical laser therapy:
Post Surgical Pain Relief & Surgical Wound Healing
Wounds (Bite Wounds, Degloving Injuries, Post Skin Grafting, etc.)
Osteoarthritis
Cranial Cruciate Ligament (Knee) Injuries
Intervertebral Disc Disease
Other Musculoskeletal Conditions (Fractures, Sprains/Strains, etc.)
Ear Disease
Skin Conditions (Hot Spots, Lick Granulomas, etc.)
One of the greatest benefits of medical laser therapy is the fact that it is non-invasive and allows us to treat these conditions with fewer medications and/or invasive procedures. The laser treatments themselves are painless, as the animal only feels a mild warming sensation over the area being treated. There are also no adverse side effects of laser therapy.
Laser therapy works by delivering light energy deep into tissues, which stimulates the production of energy at a cellular level. This additional energy results in the anti-inflammatory and pain relieving effects of laser therapy, and allows injured cells and tissues to heal more rapidly.
Contact us today if you have any questions or if you think your pet might benefit from this exciting new treatment option.
Watch the video below to learn more about laser therapy.